Need a massage and want at the same time
improve your overall health and sculpt your body?
There is an answer to that!
Maderotherapy
Stress, hectic times, we all now that too well. How pleasant then the thought is to get a massage to ease of that tension… Some of my clients asked whether I could also offer massages. That need triggered an idea in my mind which now has become reality. I have completed the training for Madero therapy sessions and am happy to offer it.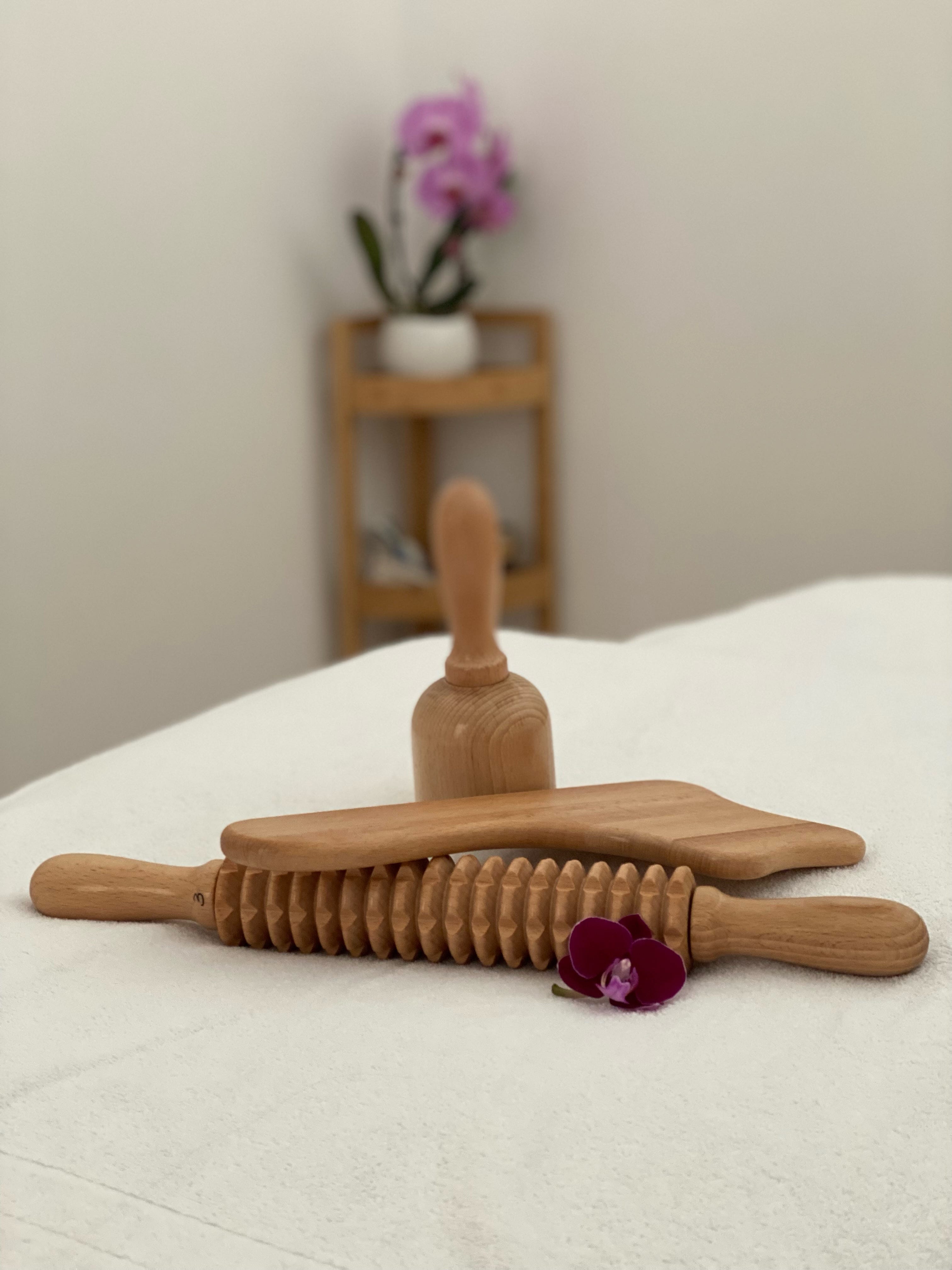 Some of the benefits:
· Activates lymphatic system that helps removes excess water/eliminates water retention
· Speeds up metabolism to burn fat
· Firms, tightens and tones the skin
· Natural and non-invasive cellulite
elimination and fat reduction
· Stimulates microcirculation and blood flow
· Reduces Stress
· Relaxes mind and body, which helps
relieve mental and physical tension
Maderotherapy

Maderotherapy is a holistic massage technique that uses anatomically designed wooden tools to sculpt the body's proportions while improving overall health.

The technique involves repetitive movements using different wooden instruments to manipulate targeted areas of muscle, fat and cellulite, stimulating the lymphatic drainage system to remove unnecessary water, fat and toxins from the body.

What makes this treatment unique, comparing to other alternatives is that it stimulates the production of elastin and collagen and eliminates cellulite at its root.

Maderotherapy has been practiced for centuries in the oriental countries, but it took a wave of popularity in Colombia to make it worldwide known. In case you wonder why it's called Madero, the answer is easy: the word in spanish means «wood».

How many sessions are needed to see a result?

Everybody is different. That's why «one size fits all» cannot be applied. However, noteworthy results are clearly to be seen after 4-6 sessions. For a long-term effect I recommend 10 sessions, ideally 2x per week.

When is Maderotherapy not recommended?

The therapy is not recommended for pregnant women. Young mothers should wait 4 months after the lactation period in order to get their hormones into balance again. Further during the menstruation the therapy should not be applied

What does a session cost?

1 treatment (stomach, legs, buttock)
(duration: 50 min) CHF 90.-
10 treatments (stomach, legs & buttock) CHF 850.-

1 treatment whole body (stomach, legs, arms, buttock)
(duration: 90 min) CHF 120.-
10 treatments whole body CHF 1150.-

Please contact me for more details and availability.....